Clear communication is difficult, especially in teams with remote members. Even in small groups, communications can become cluttered and unmanageable when using email. Sending a simple message to a group of people can tricky and complicated.
Our team faced these problems, and we wanted a solution where we could all share information in a simple and transparent way. The key word here is transparent. It's always important to know what everyone else is doing, so that you can better coordinate your movements.
This is where Slack comes in.
Slack launched in August 2013 and has grown into the go-to communication tool for software development teams. It was created by a games company as a "Searchable Log of All Conversations and Knowledge". This later progressed into what we know as Slack today.
Complete Communication Archive
By far the most important part of Slack is that all our team's communications happen in one place. No more searching through emails, or Skype conversations, and post it notes on whiteboards. Everything any of us has ever written is searchable in one place, via one search bar, in one app. I'll delve deeper into Slack's search function shortly.
This sounds like Slack could get cluttered , but this isn't the case. Having well-defined channels for each topic of conversation mitigates this problem. We have the following channels setup:
#general: day to day work conversation
#random: team banter and chit-chat
#dumptruck: group file repository and Pastebin
#secure: sensitive information like server credentials and login details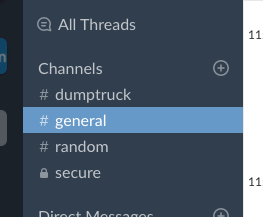 Integration
Another critical feature of Slack is its integration with other services. We use Trello a lot of keep tabs on what work needs to get done, who's doing what, and what has already been completed. It's a great tool for devs and project managers to keep tabs on what's going on during a project.
Linking Slack and Trello together allows us to create, update, and delete individual tasks from within the app. Sharing tasks is equally simple.

There's a huge bunch of applications that support Slack integration. You can take a look at the complete list here: https://jisc-census-support.slack.com/apps
Different Teams
The popularity of Slack has made interacting with different teams and groups much easier. Our team is developing an application using an Open-Source framework called DKAN, and the creators of DKAN use Slack to collaborate with each other. This means that we're able to quickly switch teams to interact with the DKAN community when we want!
This has been especially useful when debugging issues with our application. It also gives us the opportunity to give back to the community, and help out other developers when they need it. Because of our communications on Slack our team has been able to contribute to the development of DKAN, and help it to grow.
Searchable Content
Yes, we all know that you can search through your emails, but how often do you get the exact result you're looking for on your first try?
With Slack, we can search for keywords, code snippets, or file names to get the content we're looking for. We can also filter the searches for things like who sent the message, which channel it was sent in, or when it was sent. This all happens within one user-friendly search bar.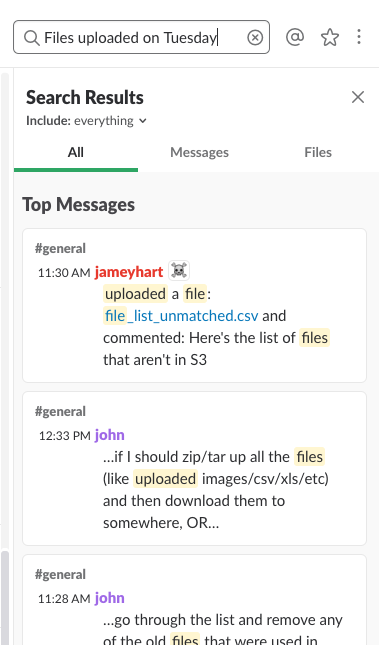 Multiplatform
Slack was developed in C++ and JavaScript, meaning it's multi-platform ready straight out of the box. This meant it was fairly simple to port the app from a single online web app on several different platforms. Currently Slack is supported on:
Android
iOS
Windows Phone
Linux
OSX
Windows
This means we're all able to connect with the rest of the team when we're out and about.
Markdown
Being able to style messages using Markdown can be useful, especially when sharing code snippets. Built in syntax highlighting makes reading and understanding those code snippets much easier.
---
These are just some of the features that Slack has to offer. It has transformed the way our team works together, and allowed a more fluid development process.