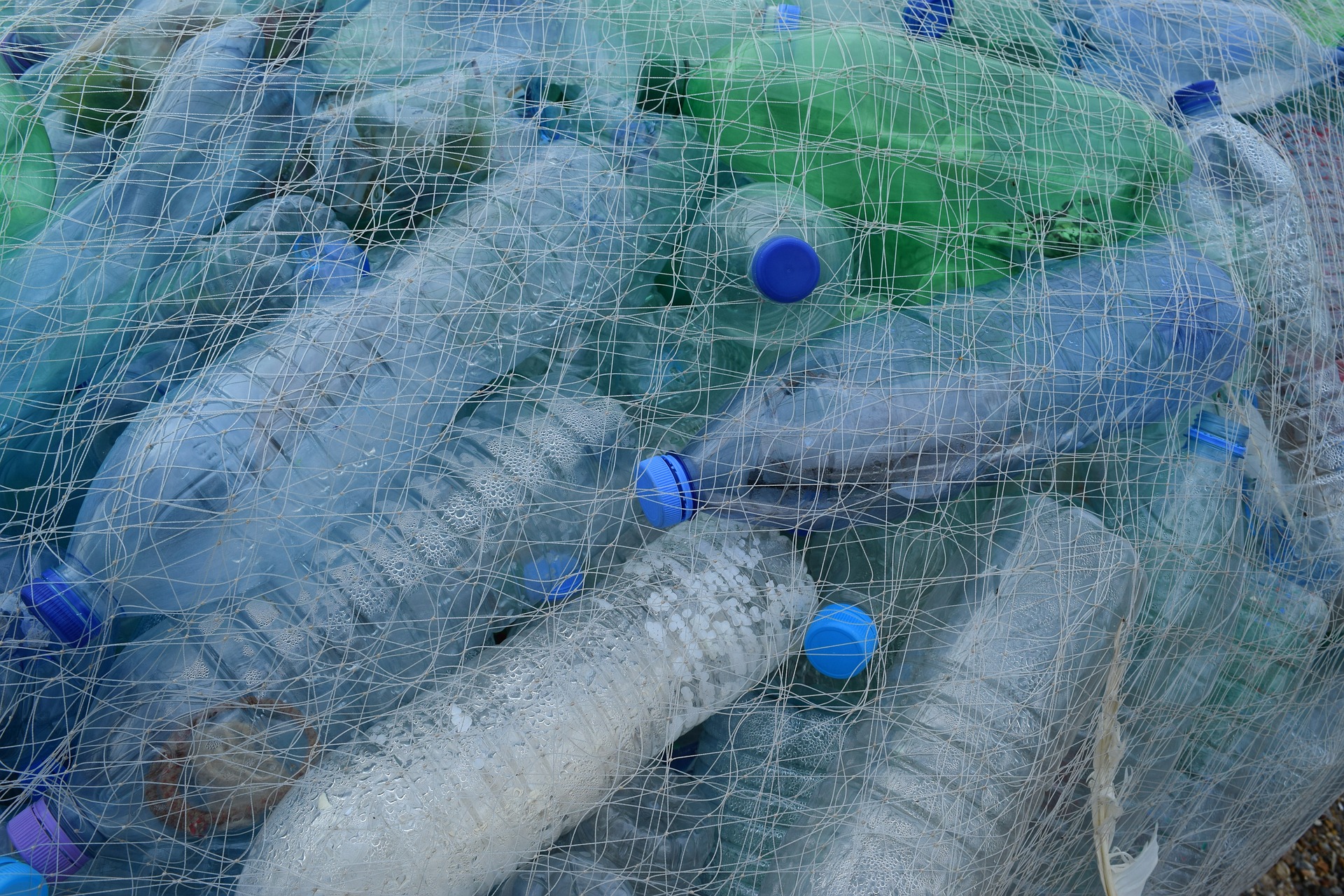 Image by Matthew Gollop from Pixabay
Plastic pollution, especially that from single use plastics, is a problem which has been growing for years but which has recently had a much higher profile across traditional and social media.
Images of huge 'islands' of plastic in the ocean, marine animals trapped, or whales with stomachs full of plastic have become all too common. Plastic use and pollution are relevant at all levels from local right up to international and the world needs creative and innovative approaches towards dealing with it.
On Saturday 6th July at The Federation in central Manchester, the UK Data Service and Methods@Manchester will be holding an all-day Open Data Dive – an opportunity to work with a range of data including environmental data in the UK Data Service collection and open data.
The data dive will bring together coders, data enthusiasts, graphic designers, project managers and pizza lovers to analyse and visualise open social and economic data about plastic use reduction. It's free to attend, just book online.
The challenge
Local to global: The data in plastic, from single use carrier bags to international emissions from plastic manufacture – developing data strategies for plastic reuse reduction
Examples of open data the UK Data Service hosts
UK Census
We host a variety of data here at the UK Data Service, including UK Census data, from 1971 to the most recent census in 2011. Census data is often used to provide contextual information, and to see if there is a relation between demographics and your area of interest (e.g. plastic carrier use, recycling rates etc). These data give detailed information concerning people and households for a variety of geographies, from country level, right down to Output Area level (areas containing an average of 309 people in England and Wales). They cover topics such as age, sex, country of birth, ethnicity, household size, number of cars, travel to work, economic activity, and many more. In addition we host UK boundaries that complement the data, enabling researchers to map these data and combine data from other sources.
Data from the 2011 and 2001 censuses can be found at InFuse, and data from 1971-2001 census from Casweb. We also have a selection of 2011 bulk data in our new interface. There are also flow data where there is an origin and a destination (e.g. commuting and migration). This can be found by using Wicid. Boundary data from 1981 to 2011 can be downloaded from Easy Download or Boundary Data Selector.
Here you can see a simple map of wards in Greater Manchester showing the percentage of lone person households aged 65 and over.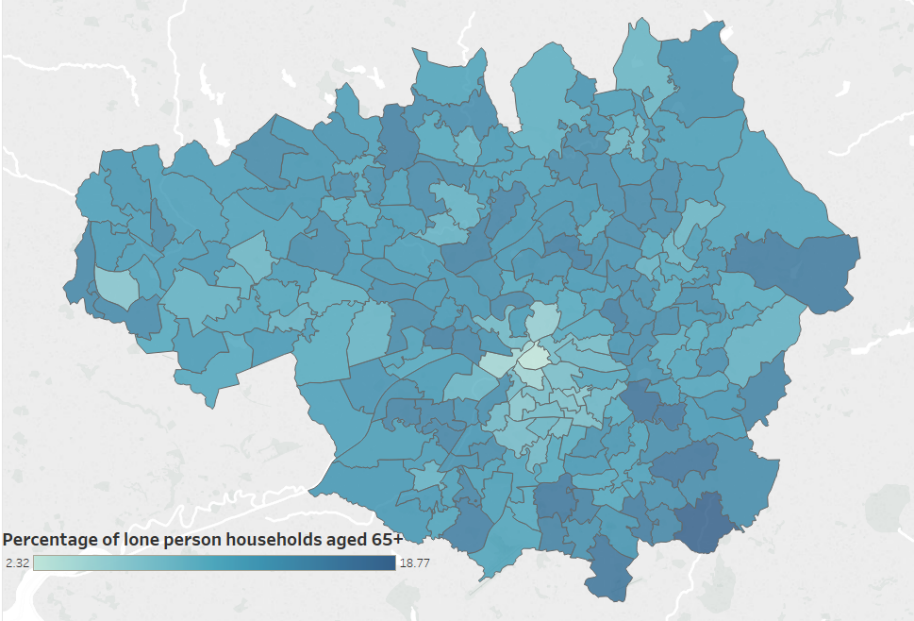 Office for National Statistics (2017): 2011 Census aggregate data. UK Data Service (Edition: February 2017). DOI: http://dx.doi.org/10.5257/census/aggregate-2011-2
This information is licensed under the terms of the Open Government Licence [http://www.nationalarchives.gov.uk/doc/open-government-licence/version/2].
International data
We also host international data from a variety of International Governmental Organisations such as the World Bank, Organization for Economic Cooperation and Development (OECD), International Monetary Fund (IMF), International energy Agency (IEA), and the United Nations. These data give figures for countries and some for regions, over time, usually annually, but sometimes quarterly and monthly level data.
The UNIDO (United Nations Industrial Development Organization) datasets, cover time series data aggregated by manufacturing sectors, with series such as imports, exports, output, consumption, and wages. Here you can see the value of "plastics and synthetic rubber" exports for individual countries to the World during 2015.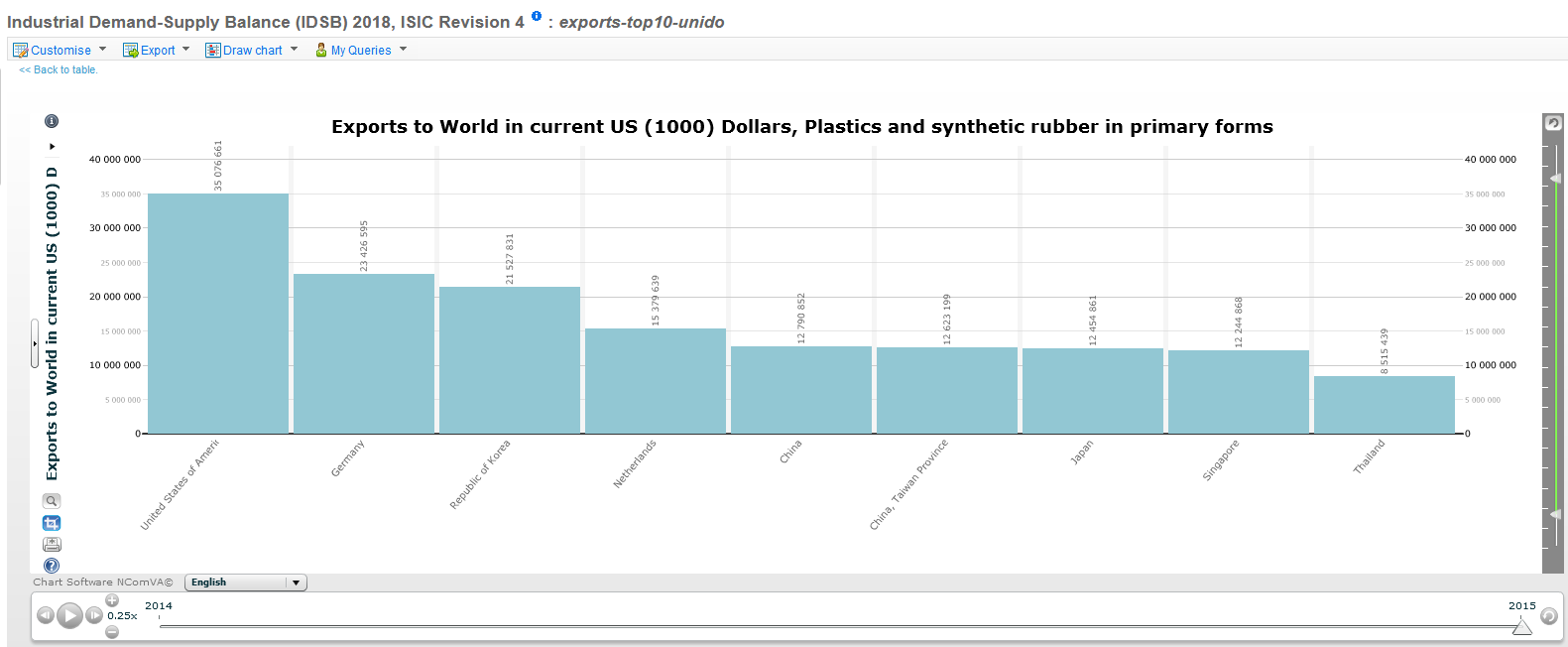 United Nations Industrial Development Organization (UNIDO): Industrial Demand-Supply Balance Database, ISIC Rev. 4 (2018 Edition). UK Data Service. https://doi.org/10.5257/unido/idsbr4/2018-10
The IEA provides detailed time series data on energy statistics and balances. Recently the IEA have noted that:
Demand for plastics – the key driver for petrochemicals from an energy perspective – has outpaced all other bulk materials (such as steel, aluminium, or cement), nearly doubling since 2000. Advanced economies currently use up to 20 times more plastic and up to 10 times more fertiliser than developing economies on a per capita basis, underscoring the huge potential for global growth.
Here we can see data for the USA concerning Industry energy consumption specified by sub-sector. "Chemical and petrochemical" consumption ranks fairly high.

International Energy Agency: World Energy Balances: Summary Energy Balances. UK Data Service. http://dx.doi.org/10.5257/iea/web/2018-10</em
The OECD provide detailed data concentrating on OECD member countries. The  Environment Statistics dataset contains some relevant series such as waste by sector. Below you can different countries waste levels for "chemical, pharmaceutical and plastic products" during 2014.

Organisation for Economic Co-operation and Development (2018): Environmental Statistics (Data downloaded: 28th September 2018). UK Data Service. DOI: https://doi.org/10.5257/oecd/env/2018-09
The OECD also produce data at lower geographical levels in the OECD Regional Statistics dataset. This contains some environmental data such as Municipal Waste rate. Here you can see data for regions of Poland between 2000 and 2016.

Organisation for Economic Co-operation and Development: Regional Statistics (December 2018 Edition). UK Data Service. http://dx.doi.org/10.5257/oecd/reg/2018-12
Typically there is less detail at the regional level, so these data are municipal waste generally, as opposed to plastics. If you are interested in EU countries, it may be worth looking at Eurostat for low level geographical data.
Other sources of open data
There are of course lots of other data out there, we had a quick search and thought some of these sources may be useful:
Don't worry if you are not familiar with these types of data, we will be on hand on the day to help where we can.
Do you know of any other good data sources related to plastic? Then add a comment to let us know.